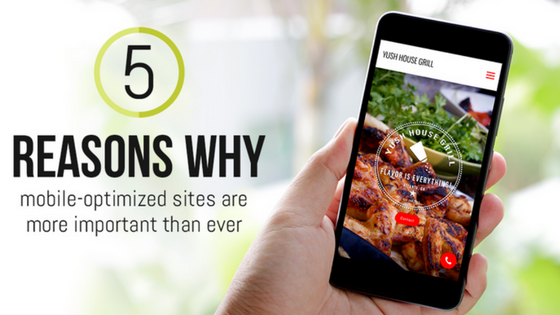 Mobile optimization has become a critical factor for success online. Smartphones, tablets, and other Internet-capable devices are circulating more than ever, which has led to a massive rise in mobile Internet browsing. If your site isn't mobile friendly, you could be losing significant sales and missing out on connecting with a wider audience. In today's mobile-addicted society, it's more important than ever for your website to be mobile friendly, and here's why:
1. Everyone Uses Mobile Devices
People use their mobile devices to browse the Internet all the time — while watching TV, in movie theaters, and even while they're in front of a computer! Your potential customers are using the Internet on the go and that's why investing in a mobile-friendly site is nonnegotiable. A mobile-optimized website creates correctly formatted pages and a better browsing experience for your customer, whenever and wherever.
2. Accessibility
Mobile devices are portable. This can be a great advantage for your website because it makes it much more accessible. With desktops, users are limited when it comes to where they can surf the web. But with mobile devices, customers can access your mobile-friendly site anywhere.
3. Web Traffic is Becoming Increasingly Mobile
Mobile device usage has grown tremendously over the years. Roughly 56 percent of consumer web traffic in the US is now from mobile devices. And mobile-optimized websites give these users what they want: the opportunity to view sites on the go.
4. User Experience
Sites that aren't mobile responsive create a negative user experience. An example of this is having to pinch and zoom so a page fits a smaller screen. Text users can read without zooming, webpages that perfectly fit a mobile screen, and links separated enough so they are easy to select are just a few characteristics of a mobile-friendly site that create a better user experience.
5. Google Favors Mobile Friendliness
According to Google, more searches take place on mobile devices than on computers in 10 countries, including the US, and they've made it clear that a website's search rankings will suffer if it's not mobile optimized. Google's search algorithm gives mobile-optimized sites a leg up on non-optimized ones because it's designed to bring users the highest-quality search results — and these days, a high-quality site means a mobile-optimized one. Your website's accessibility on all devices will keep it from being buried in search results.
Whether people are looking you up on mobile devices, desktops, or tablets, we create websites that display perfectly on every device. And customers love them. Call 844-207-9038 or email hello@mopro.com to learn more about how we can make your site mobile friendly.