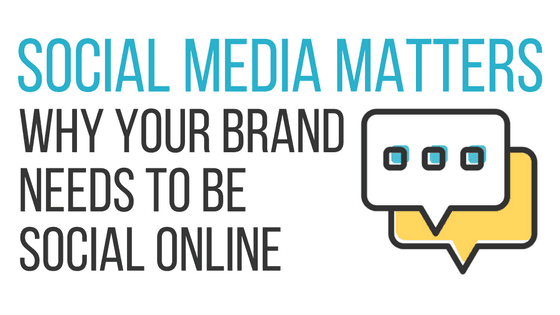 If there's one thing we've learned about social media, it's that it doesn't pay to be antisocial online. Social media is a big deal for your business and if you've been ignoring its importance, here's the truth: these days your marketing strategy can't compete without it — social media is where the people are, and that means you need to be there too. Here are five reasons why your brand needs social media more than ever.
1. It increases your brand's reach online.
When it comes to your online presence, the bigger your reach, the better. Social media is a tool you can use to let people know your brand exists and build brand awareness. It's also one of the best ways for you to drive traffic to your site, and more site traffic means more opportunities to convert visitors into customers.
2. It's the greatest way to connect with people.
People use social media to connect and if you're not on it, you're missing out on opportunities to grow your network. The right platforms can introduce you to potential customers. Once you're there, use your social presence to get to know them, learn exactly what they want from you, and see how to best meet their needs.
3. It takes customer service to the next level.
When it comes to customer service and experience, social media is huge. It gives people an easy way to get in touch when they need you and provide you with feedback about how you're doing. And you? You get a way to quickly respond to questions and concerns, giving you the chance to show off how great you treat your customers.
4. It helps you keep up with the competition.
Your competitors are most likely already on social media and you need to be there too if you want to keep up. Tracking your competition on social media is also a great way to find out what they're up to. Keep an eye on them to see which of their strategies are working and which aren't — see what they're doing right and do it better.
5. It's here to stay.
Social media's continued popularity tells us it's not going anywhere anytime soon. It's here to stay and the sooner you start building a presence on the top platforms, the better. It's not too late to start taking social media seriously, but the time to start is right now. Sign up, strategize, invest time, and start seeing the benefits.
If you're looking for a way to make it on social media, our management tools can help take your efforts to the next level. Call 844-207-9038 or email hello@mopro.com to learn more about how we can help.