One of our favorite mottos is, good isn't good enough. We're always asking ourselves, how can we make our product even greater? And it's an exciting day when we get to see those ideas come to life on our platform. Here are three of our favorite releases from the past few months.
QR Codes
QR codes are making a big comeback right now because of the contact-free options they give users. Now in A.I. Editor, you can generate a custom QR code for any page of your website. Share these codes anywhere, like on social media or printed materials, to give customers a contact-free way to view your menu, online ordering, and more. Visit our Help Center to learn how to generate your first QR code.
Manage your email directly in your Digital Command Center.
If you're a client who has purchased our Custom Email Upgrade, you'll be happy to know that you can now access and manage your email directly in your Digital Command Center. Just log in and select the My Email tile to view your inboxes, manage your calendar, and create new email accounts yourself. This is a huge win for everybody's favorite one-stop shop.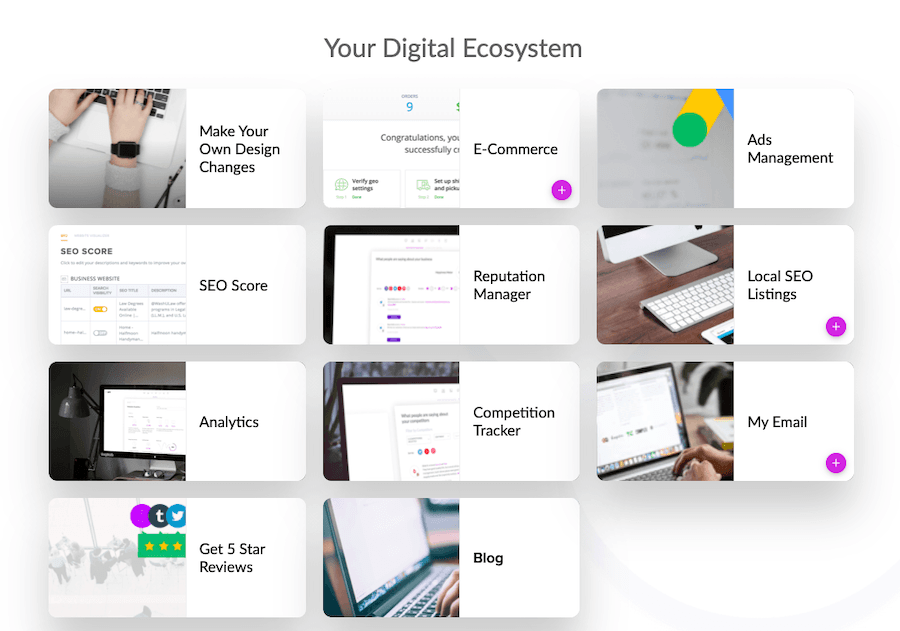 If you haven't purchased this upgrade yet, we highly recommend it to anyone still using generic emails (Google, Yahoo, etc.) for their business. Learn more here.
We've integrated with eight new review platforms!
Say hello to the new platforms we've added to Reputation Manager, Competition Tracker, and Testimonial Collector: ConsumerAffairs, RateMDs, Cylex, WeddingWire, The Knot, Realtor, Zocdoc, and Yellowpages.
If you haven't started collecting reviews on these platforms already, you're going to want to (especially if you're in the Health or Wedding industry). Through our partnership with Zapier, we're able to put collecting reviews on autopilot. We'll connect Testimonial Collector to whatever tool you use to manage customers – HubSpot, Stripe, Square, and 400+ others – and automatically trigger surveys based on the interaction of your choice. Click here to learn more about this free feature.
Questions about any of these new features? Visit mopro.com/support or call 844-207-9038 (ext. 2).